I'm happy to report that, after two years of labor and love, my custom fixie bike project has come to an end! The project began with a late-1990s aluminum Trek 1000. The bike was gifted to me by a friend when we moved to Ann Arbor in 2003. It served its purpose well; a bike to ride around town. However, a couple of summers ago we decided to get a bit more serious about cycling. So, we bought some fancy new road bikes (mine is a 2008 Lemond Versailles).
After splurging hard-earned cash on new bikes, I thought it would be wise to keep the Trek for basic commuting around town (e.g. steal this bike, not that one). However, once a few friends planted the seed in my head, the idea to convert the old Trek into a fixie was born. Now, like most ideas/projects, I can easily turn a mole hill into a mountain. What began as a simple project (maybe add a rear flip-flop hub) became a massive undertaking. In the end, the bike is a complete rebuild. The only original parts are the frame and fork, and these have been modified and powder-coated a new color.
It's taken two years to complete this project. This bike ended up costing almost as much as my fancy road bike. Yes, I did sell the majority of my woodshop to pay off the bills on this endeavor. However, today I'm ear-to-ear smiles. Check it out! Oh, big love to the fellas at Wheels in Motion for all their help! If you live in Ann Arbor, visit this bike job.
This wasn't my Trek 1000, but it's almost identical (sans the aerobars).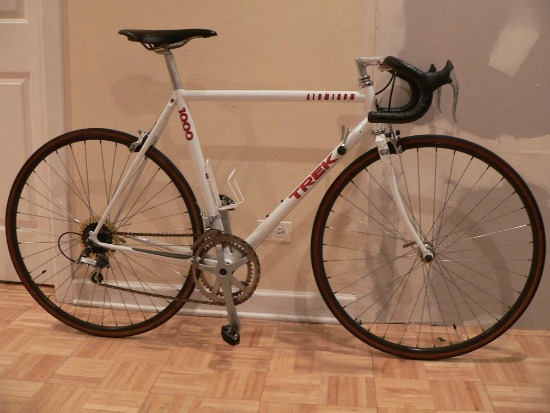 Parts list:
Brooks B-17 Saddle (Black)
Sugino Single Speed 165mm 48T Track Crankset – 130mm
Nitto 1″ Technomic Riser Stem 26.0
Nitto Randonneur Drop Bar
ENO Eccentric Hub 126mm 36H
(2) Sun CR-18 700cc 36H Rims
DT Competition 2.0/1.8 Spokes
Surly SS T/Cog Lockring 1.29 x 24
(2) Bontrager RC AW HC 700X28c Tire
SRAM PC-1 1/8 Chain SIL
(2) Bontrager 700X28-32 PV 36mm tire tube
Shimano BB-UN54 Bottom Bracket
Shimano PD-M324 Clipless/Clip Pedals
Surly Front Hub 36H
Shimano BL-R400 Road Drop Brake Levers Set (Black)
Shimano Tiagra BR-4500 Brake Caliper
Brooks Leather Handlebar Tape
I plan on adding a freewheel to the flip-flop hub. Additionally, I've got my eyes on this rear mount rack from Portland Design Works. Also, this tool bag and roll-up pannier, both from Brooks, are on my wish list too!