Dharma and I rode the Illinois & Michigan (I&M) Canal Trail, end-to-end, from east to west this weekend. The trail is the heart of the I&M Canal National Heritage Area. Designated in 1984, the I&M Canal National Heritage Area is our country's first National Heritage Area and encompasses approximately 862 square miles, five counties, and 60 communities.
The 96-mile I&M Canal opened in 1848 and linked the Illinois River with Lake Michigan. In many respects, the Canal was instrumental in building Chicago into a major Midwestern metropolis. Together, with the Erie Canal and the Great Lakes, the Canal helped link the Atlantic with the Mississippi River and created a vital network for shipping and commerce. In 1933, the Canal was closed to navigation following the creation of the Illinois Waterway. Further, in the 1950s, the easternmost portion of the Canal in Chicago was buried under the Stevenson Expressway. Today, the I&M Canal Trail begins in Willow Springs and ends in LaSalle.
Our journey along the trail, which ended up being a solid 100 miles, was both pleasant and frustrating. The first 48 miles, from the trailhead in Willow Springs to Morris, were very scenic and filled with beautiful flora and fauna. However, from Morris, things slowly went downhill. The crushed limestone/gravel trail turned to overgrown singletrack; we encountered numerous downed trees; and the trail eventually became completely barricaded or disconnected in a few locations. The latter was immensely frustrating as it required doubling back and rerouting along roads. No signs or any other forms of notification were placed along the trail to indicate the upcoming dead ends.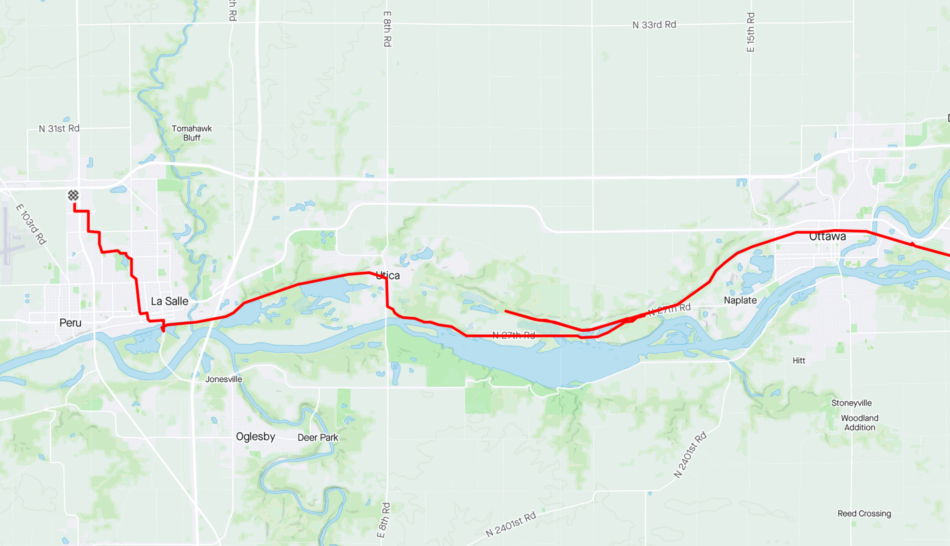 After a long day of riding we ended up spending the night at a hotel in Peru, IL. While we had planned to ride the route in reverse to head back to our car, we ended up paying a local with a truck to drive us to the trailhead the following day. One way was more than enough for us!
The following pictures are all from the first portion of the route. I was too annoyed to snap photos once the trail turned sour!