The MSU Museum is pleased to present 1.5° Celsius now through February 25, 2023. The exhibition and its supporting programs imagine new ways of addressing the social and environmental issues connected to the global climate crisis.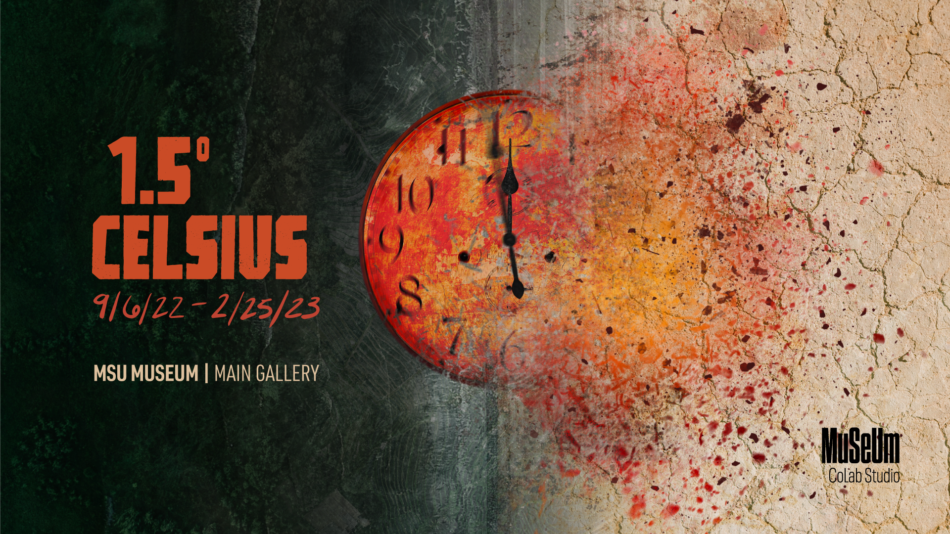 Through the contributions of national and international artists, scientists, and researchers, the exhibition addresses the global climate crisis across three key themes. These themes focus on the interdependence of all life, imagined futures, and sustainable solutions to combat the global climate crisis.
After reviewing over 175 open call submissions from around the world, the curatorial team selected 15 exhibits to include in the exhibition. Contributors include artists, researchers, and scientists from across the United States, The Netherlands, Japan, Russia, and the United Kingdom. 1.5° Celsius was curated by the MSU Museum's new CoLab Studio. A division for innovation, the Studio's timely and relevant programs are designed to be novel, transient, and experimental.
Curators for the exhibition include Abhishek Narula, Assistant Professor of Electronic Art and Intermedia & Experience Architecture in MSU's Department of Art, Art History, & Design; Dr. Julie Libarkin, Associate Dean for STEM Education and Research and Innovation in the Office of the Associate Provost for Undergraduate Education; Dr. Mark Sullivan, Creative Director of MSU Museum CoLab Studio; Caroline White, Education & Learning Manger with CoLab Studio; and former MSU student Hadley Griffin.
Fifteen exhibits will be on view in the Main Gallery at the MSU Museum. Additional exhibits will be embedded at the STEM Teaching and Learning Facility, MSU Main Library, and downtown East Lansing's (SCENE) Metrospace. The CoLab Studio's acclaimed CoLaborators will be stationed throughout the Museum's Main Gallery to engage visitors in dialogue around the exhibition content. CoLaborators are a team of undergraduate and graduate students that spark thoughtful discussions, facilitate ideas, and infuse learning and creativity through MSU Museum exhibitions and outreach.
The exhibition kicks off with a variety of interdisciplinary programs. The first is The Community Bee Clinic, a community-based art-science workshop where participants will learn all about honeybees and can become emergency caregivers for ailing bees. And, later in September, an outdoors screening of the acclaimed film WALL-E will take place in the W.J. Beal Botanical Garden. WALL-E is the story of a lone robot tasked with cleaning up mountains of garbage on an uninhabited Earth in the year 2850.
In sum, MSU Museum will present one dozen programs in conjunction with the exhibition, including a workshop where participants will collaboratively create a giant weaving made from plastic and recycled objects on a wooden tapestry loom. For complete exhibition information and to view the full virtual program schedule that includes lectures, workshops, and performances, visit: museum.msu.edu.
1.5° Celsius is made possible by Michigan State University Federal Credit Union (MSUFCU).