On Friday, September 11, 2020, Science Gallery Detroit opened it third annual exhibition—FUTURE PRESENT: Design in a Time of Urgency—in the midst of a global pandemic. This year's exhibition theme, which was planned prior to the onset of the pandemic, explores humanity's nuanced relationship to various forms of design and the impact it has on the future. Further, the exhibition illustrates three key themes as they relate to design: the impact of technology on society; design and systemic change; and creating participatory design processes for a sustainable future. The exhibition is on display at 1001 Woodward in downtown Detroit until December 11, 2020.
FUTURE PRESENT include works from more than one dozen national and international artists, scientists, and researchers; and, four commissioned pieces, including three from three Detroit-based emerging artists. Guest curators for the exhibition include Olga Stella of Design Core Detroit, Cézanne Charles of rootoftwo, and South African artist and curator Ralph Borland.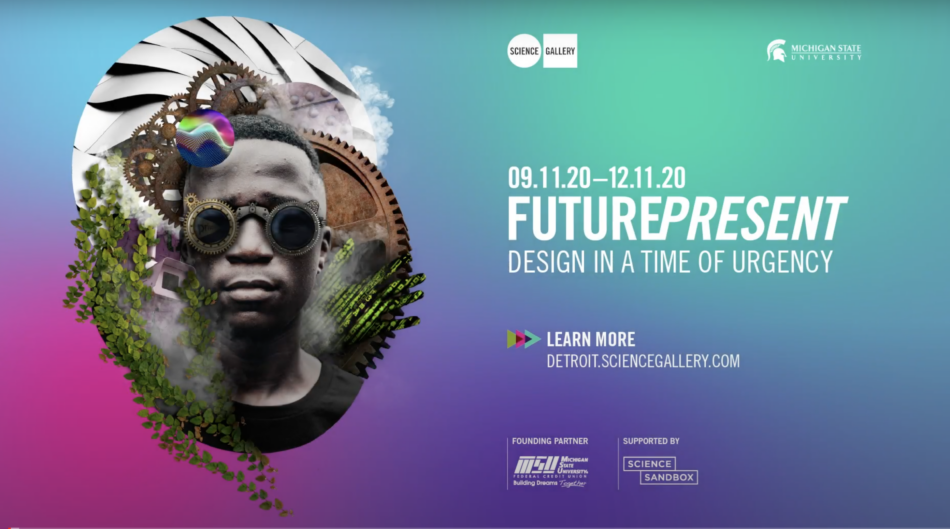 Timing of the Exhibition
In 2015, Detroit became the first and only city in the United States to receive the City of Design designation from UNESCO. This recognition was bestowed on Detroit for the city's rich history as a center of design and creativity. To honor and promote the designation, September is now celebrated as Detroit Month of Design.
Safety Protocols & Innovations in the Exhibition
In light of the pandemic, Science Gallery Detroit is taking extra precautions to ensure a safe and welcoming environment for visitors. Capacity into the exhibition will be limited to 30 guests per hour, and visitors must reserve a free timed-ticket in advance. Attendees will enjoy a 40-minute tour of FUTURE PRESENT, and the Science Gallery staff will sanitize the exhibition hourly. Special hours have been reserved on a daily basis for seniors and vulnerable populations. In compliance with the governor's executive order, attendees will be required to wear face masks at all times.
While the exhibition will be a low-touch experience, guests will have access to a smartphone tour that will include videos, audio clips, and images to augment exhibition content. Additionally, Science Gallery Detroit's team of mediators will work remotely, and in real-time via telepresence robots, to engage visitors in dialogue helping them to further explore exhibition themes.
Media Coverage
We're pleased to have garnered excellent media coverage for the exhibition. This includes features by our local ABC and NBC affiliates, as well as The Detroit News.
Virtual Programming
This year's show includes a bevy of sci-art virtual programs. Starting opening weekend, Science Gallery Detroit hosted a Curators' Conversation on Fri., Sept. 11 followed by an exclusive performance on Sat., Sept. 12 by Ghostly International artist Shigeto. Both events were presented in partnership with Detroit Month of Design and Ars Electronica Festival 2020, which is known as one of the world's largest international multi-media festivals that celebrates technology, science, and the arts.
In October, the virtual programs continued as Science Gallery Detroit partnered with WDET-FM to present the acclaimed electronic artists John Collins and Mark Flash of Underground Resistance during this year's Concert of Colors. In sum, one dozen virtual sci-art programs will be part of the FUTURE PRESENT season.
Made Possible By Generous Sponsors
FUTURE PRESENT is made possible by MSU's Science Gallery Detroit founding partner, Michigan State University Federal Credit Union (MSUFCU), and Science Sandbox, an initiative of the Simons Foundation.